Aktivate your South Tyrol Pass…

easily from your home
Would you like to aktivate your South Tyrol Pass for Carsharing? Then simply follow these three steps and you can already use your pass to unlock or lock our vehicles.
Please note that you will receive the monthly bills through our billing portal carsharing.e-bz.it; The travel costs will not be charged via the South Tyrol Pass.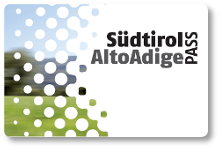 Go to the carsharing.bz.it/pass page first, click on "Request activation" and log in with the user name and the password of your South Tyrol Pass. If you have not yet registered your South Tyrol Pass, you can easily create an account at www.sii.bz.it.
After logging in, please give us permission to use your South Tyrol Pass and enter your name and your e-mail address in the fields provided.
Then the data of your pass will be sent to us and we can activate it in our system. The car can be then easily unlocked with your South Tyrol Pass during all your future bookings.